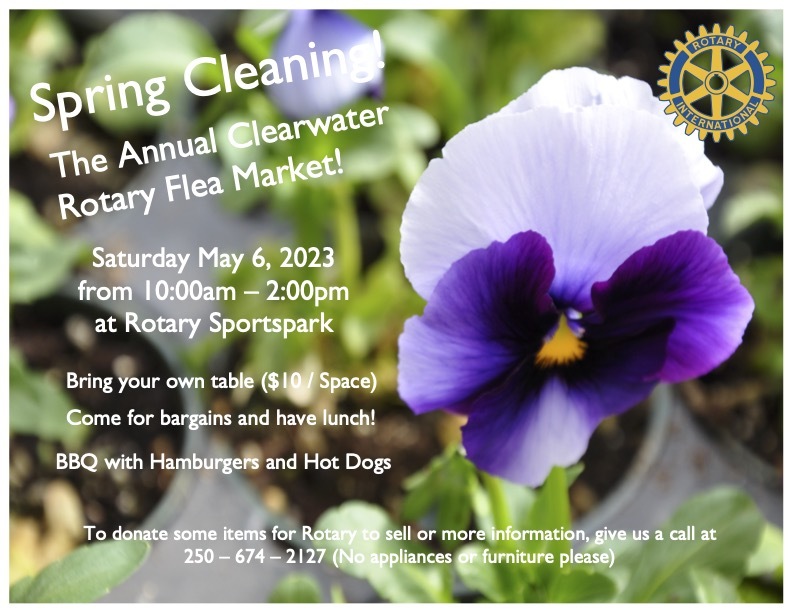 Flea Market
May 6, 2023 | Time: 10:00 am | Location: Rotary Sportspark
Do you have something to Sell or Donate, or are you interested in purchasing something that was gently used?
Maybe you are just interested in coming out to visit the Rotarians and others that have booths set up, or you want to set up your own table and move some of those items that are still very much of value. Only $10 Dollars for a space in the flea market!
Yes, parting may be a sweet sorrow, when you part with those items that you once held dear, now they are re-homed and you have a little spending money, sweet indeed!
Do come along for some fun and friendship to the Rotary Sports park, come with an appetite, we will be selling BBQ Hamburger's and Hot Dogs for your dining pleasure!
For those of you that are just coming to browse, I will share a story of a friend that bought an old painting at a Flea Market. When he had it appraised it was worth $78,000.00 Dollars, and that was in 1974! So watch out for some great deals, and for those selling, remember to check the signature, was that really a Rembrandt?
See you all on Saturday in the Park! It's going to feel like it was the 4th our July!